Michael McKenzie
Owner and Founder of Red House Music Academy
Guitar & Bass
Michael grew up in Medicine Hat, Alberta. His pursuit of all things guitars and rock 'n roll, involved studying guitar at famed arts/music school Grant MaEwan College in Edmonton, three years in Calgary teaching at Guitarworks, and playing music, and eventually ending up moving to Toronto in 1994. Michael landed a gig with Universal Honey, and spent years touring all over North America as support for The Goo Goo Dolls and various other touring acts stateside.
Though he still loved teaching, and had always thought of having his own music school some day. This would involve a fresh new approach to teaching and inspiring students with the latest technology available, as well as incorporating recording, and a rehearsal space where students could play together as a band. Thus Red House was born in late 2009.
In addition to teaching, and running Red House, Michael plays and records with The New Mendicants featuring Joe Pernice (Scud Mountain Boys, Pernice Brothers), Norman Blake (Teenage Fanclub), and Mike Belitsky (The Sadies, Neko Case, The Good Brothers) as well as Canadian music stalwarts, Lowest of The Low, and The Mick McKenzie Band.
Al Cross
Drums
Born in Montreal, 1953, Al has always loved the drums.  He played in high school bands, inspired by local heroes The Rabble, and various bands of the day.
A life changing moment occurred as a result of a generous invitation from Art Blakey, one of the greatest drummers of all time. He and The Jazz Messengers were just about to start playing an outdoor concert when suddenly it began raining 'cats and dogs'. The crowd went running for cover. Al and a small group of die hard music fans were left standing in the rain, staring up at the stage. Mr. Blakey motioned for this small pack to join him on stage, which was covered and dry.
Perched beside the drums, Al was treated to a life changing concert.  After high school, equipped with a little Ginger Baker, Mitch Mitchell and a lot of Art Blakey in his heart, Al went on to study percussion with Pierre Beluse at McGill University while working with many of Quebec's top performers such as Dianne Tell.
Zebulun Barnow
Guitar, Banjo, Drums, Piano, Voice
Originally from Chicago, Zebulun has performed with a multitude of rock, funk and theatrical groups at legendary venues ranging from Club Stodola, Hideout and Schuba's to the Riviera Theatre, Park West, Metro and Lincoln Hall.
He performed thousands of shows with Blue Man Group at the Briar Street Theatre as well as live broadcasts for all the major local television affiliates (ABC, CBS, NBC, WGN, Fox).
In 2012 Zebulun was the voice for Chicago Shakespeare Theatre's production of "Timon of Athens" which won the Jefferson (Equity) award for best original incidental music. He toured the People's Republic of China as a percussionist with South Shore Symphony Orchestra in 2013-14.
In Canada, Zebulun works with the Regent Park School of Music implementing and facilitating experimental learning models in partnership with the First Nations School of Toronto.
Additionally, he continues to freelance and contract performances with several groups including his own creation, The Morality Players and a cello/guitar duo with his wife Amber Walton-Amar.
Sarah Gibbons
Piano & Voice
Sarah holds her M.A in Music Theatre from The Royal Conservatoire of Scotland as well as a performing arts diploma in acting, voice and dance from The Randolph Academy of Performing Arts in Toronto.
Originally from St. John's Newfoundland, Sarah began competing competitively in piano and voice competitions at the age of 5. She holds her Grade 10 Piano with the Royal Conservatory of Music and has trained in Estill Vocal Training.
As an actor and singer, she has performed at the National Arts Centre, Young People's Theatre, The 2015 Pan Am Games, The Edinburgh Fringe and with The Acting Up Stage Company.
She thoroughly enjoys teaching music to children and people of all ages. She believes everyone learns differently and tailors each lesson to her students' specific needs, while focusing on technique, musicality and lots of fun!
She teaches many styles including pop, rock, folk, classical and musical theatre.
Hilary June Hart
Piano, Voice, & Ukulele
Hilary holds a performing arts degree from the Randolph Academy for the Performing Arts. She's completed her RCM examinations in both piano and vocal.
Her cheerful, fun, and patient nature is a hit with young students. Along with teaching, Hilary works as an actor, singer, dancer, and musician in Toronto.
In addition to piano, she plays the ukulele, guitar, trumpet, and accordion. She motivates her students to have an appreciation for music by teaching a variety of music styles, encouraging performance, and incorporating theory, technique, ear training, and music games into her lessons.
Chris Sutherland
Drums
Chris (or "Suds" as he's often called) is known for his diversity and ability to cover almost any style. He's most recognized for holding down the drum chair for Canadian rock legend Kim Mitchell (15 years). Chris recently finished a record breaking run with the Toronto Production of Cyndi Lauper's Tony Award winning Kinky Boots. He was also the principle drummer for 3 years of Abba's Mamma Mia. Chris has also performed the musicals Shrek, the Whitney Houston Musical The Bodyguard, and the North American debut of Jim Steinman's Bat Out Of Hell Musical. As a freelance musician, Chris has toured, recorded, and performed with Lawrence Gowan, Sass Jordan, Saga, Doc Walker, Joey Landreth, Alias, Dallas Smith, George Canyon, Tom Cochrane, Deric Ruttan, Randy Bachman, Burton Cummings, BTO, Dierks Bentley and many others.
Chris studied at Musicians Institute (PIT) with legends Joe Porcaro, Casey Scheuerell, Steve Houghton, and Ralph Humphrey. And has studied privately with Ed Soph, Jim Chapin, and Gregg Bissonette. He continues to pass on this knowledge, teaching one on one, and through education seminars and drum clinics. Chris is endorsed by Sonor Drums, Zildjian Cymbals, Vic Firth Drumsticks, and Remo Drumheads.
Will Gooch
Guitar
Meet Will. Music has been the focus of his life for the past 17 years. Spending countless hours poring over music books, lifting songs and playing gigs, Will has studied closely with some very exceptional players (Tom Juhas, Reg Schwager, Andrew Marzotto, Pebber Brown).
When Will isn't playing the guitar, he's playing the piano, drums or bass, all in pursuit of becoming a strong, well rounded musician.
Although the benefits of a dedicated practice routine are tremendous, Will certainly knows how to get any student playing music. This is the art of practice: knowing how to keep it fun and exciting!
You can find Will playing in multiple bands across the city, playing coffee shop guitar in West End Toronto, or teaching people how to make their lives more musical.
Danie Friesen
Voice
Danie Friesen has a performance degree from the Randolph Academy of the Performing Arts, where she studied Theatre and Musical Theatre. She is an alumnus of COSI, a training program for opera and classical voice in Italy, and has completed her Vocal RCM Examinations.
As an instructor, Danie teaches many styles of music. She works to teach students a solid technique, while encouraging them to find their unique voice. Lessons are a balance of fun and work; ensuring students maintain and nurture their love for music, while improving their technical ability and confidence.
Outside of teaching, Danie works as a singer, actor and independent producer in Toronto.
Arjyo Bala
Guitar
Music has always been a passion for Arjyo's family and ever since he picked up the guitar, there has been no looking back.
His unique style of playing and composing comes from his concept of Unification – of Indian classical music and western genre's, which he has been developing for many years now.
Arjyo has taught student's of various skills and ages, each with their own musical tastes. He has guided them all to become good musicians in their own way. His classes have a free environment, and student's are encouraged to make mistakes, ask questions and play freely. Even though he is in Canada now, he still advises his former students that are back in India.
Check out Arjyo's website at www.ragarockharmony.com.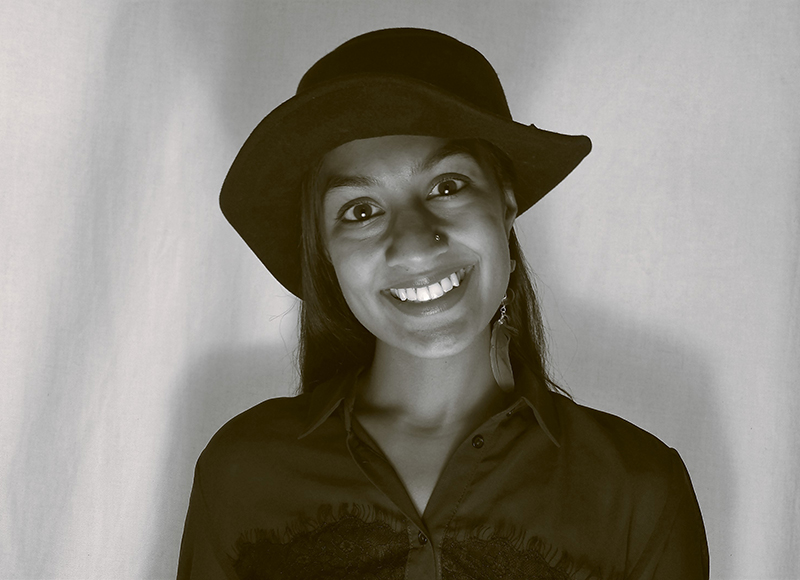 PRIYA SHAH
VOICE, PIANO, UKULELE
Originally from Calgary, AB, Priya sang in choirs from age 6, joined a vocal jazz group in high school, and began performing at open mics and writing her own songs from a young age. Priya loves improvising and has performed as a vocalist and improviser at festivals across Ontario. In addition to singing, she plays the piano, guitar, ukulele, and accordion.
Priya has worked with children and adults of all ages and abilities and believes in a person-centered approach to teaching. She teaches the fundamentals of singing, focusing on proper technique, and strives to identify and build on strengths, while also challenging students to try singing in a variety of styles and to incorporate improvisation. Her teaching focuses on contemporary styles including jazz, pop, rock, folk, soul, RnB, and musical theatre.
In addition to teaching, Priya works as a music therapist, performer, festival organizer, and contemporary composer. Priya holds a Bachelor of Music with Honours in Vocal Performance from Carleton University in Ottawa, as well as a Master of Music Therapy from Wilfrid Laurier University in Waterloo,.